Create Video Ads Online
With the popularity of online video exploding, the opportunities to create video ads online are also abundant. If you're looking to create video adverts for your own business, for online or television use – or looking to start a business based around creating video ads for other organizations – then this guide is for you.
Inside this guide
* The Business in Brief
* Training Resources in creating awesome video ads that sell
* 13 Ideas for Videos for Businesses
* Wicked Cool Web Apps to Create Video Ads Online
* Google TV Ads: Become a Bedroom TV Ad Executive
The Business in Brief
The Idea
Create video ads online and sell video production services and consulting advice to businesses and organizations.
How You Make Money
You charge businesses and organizations for your time and skills on a per-hour basis to produce videos for them. You could also charge clients a percentage of their total ad spend.
What's involved?
* Finding and attracting paying clients
* Understanding their business objectives
* Brainstorming ideas for videos
* Creating and editing videos
* Uploading and promoting videos
* Tracking and reporting on videos

Checkout this video course on starting a video business where a former-Hollywood editor walks you through how he creates videos for businesses that sell millions of dollars worth of goods.
More Video Ad Resources
How to Create Video Ads
Video Advertising via Reel SEO
12 Surprising Things Holding Back Online Video Advertising via TechCrunch
Make a Successful Marketing Video for the Web
A Digital Video Advertising Overview (January 2008 - PDF)
Online Video Advertising Frenzy via TechCrunch
Video Ads More Effective via Reel SEO
What you also need to have a grasp of is how to get paying clients and how to deal with them. As a teenager, the best way to do this is probably by working on your own - as a freelancer. Checkout this guide on how to find freelance work.


Creating Video for Small Businesses
Videos don't have to be selling something directly. Videos don't even have to be funny, super-viral either... videos can be simple, so here's a few ideas that you create for other businesses:
* Customer interviews* Day in the life of our CEO/another person* Interview with founder/director of business* The Making of X Product…* Product comparison* Showing-off product video* How to/Tutorials* Company backstory* Customer of the day announcement/interviews* Useful video guide/definitive resource* Customer Q&A* Sales presentation* Seminar transcription
Wicked Cool Web Apps to Create Video Ads Online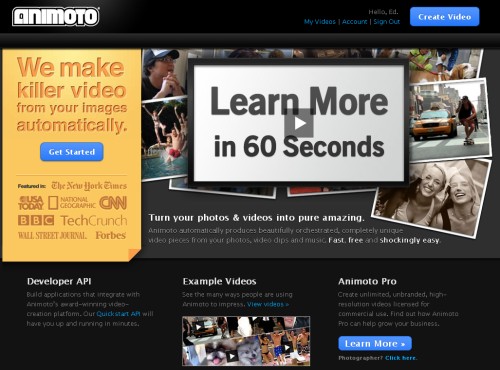 Animoto is a very cool online service, where they take your images and slideshow materials, add some royalty-free music and then their smart engine will mix it up into a totally unique and stunning slideshow.
If you're product you're selling is particularly visual - real estate, photography, travel etc. - then Animoto is perfect for you. The videos you can get (in just a few clicks) are breathtaking.
Your free account will let you create 30 second videos which will include an Animoto branded label at the finish. For only $30/year you can get unlimited number of unlimited length videos (or buy individual videos at $3 a piece). They also have a super-hyped up version for businesses where all the materials (like the music) are licensed for commercial use.
There are a couple of other services worth mentioning that are like Animoto…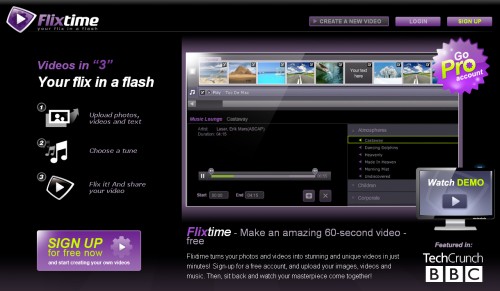 A useful feature of Flixtime is their reseller plan so you can legally create and sell videos for other businesses using their software. For a small subscription fee, you can easily produce much larger volumes of quality videos than by doing it all by hand - and that means more earning potential.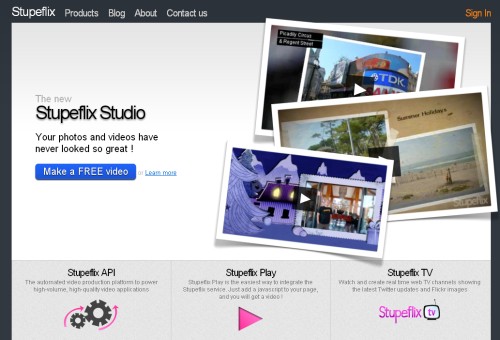 Stupeflix likes the pay-per-video model (rather than a fixed monthly membership) which may work out cheaper when you're first starting out. You could also consider Animoto's individual videos are $3 each.
Stupeflix have four products which includes an editor like Animoto and Flixtime, an internet TV channel, and embeddable video.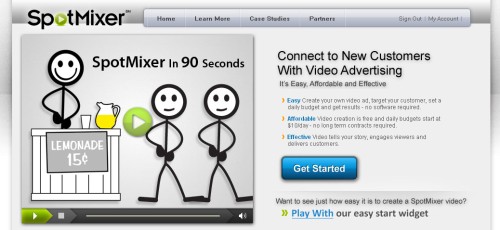 Spot Mixer does something similar to all of the above services, but it is designed only for making ads. They've got all the video ad distribution you need too – oh yeah, and they do TV. That makes it ideal for your purposes…
Even better, they offer a reseller program. That means YOU can create and run ads on behalf of other businesses and sell your services at a profit. Pretty neat right?You can download the Reseller Q&A (or read the table below) and the Reseller Application form. You need to come up with a value-added service that you can offer to them.
Simple ideas for providing a value added service could be matching video creation with filming, or photographing products for the video.
What is SpotMixer Reseller Program?

It's a program designed to enable you to customize and re-sell SpotMixer services to your clients. A lucrative part-time or full time opportunity for creative agencies, independent sales reps, local marketing firms, production companies and local media buyers/sellers.

What do I receive as a SpotMixer Reseller?

Part time or full time opportunity to get some extra cash.

Authorization to resell SpotMixer online video hosting services, online video advertising services, and downloads – both for online and TV.

Wholesale pricing on SpotMixer online marketing services (only).

SpotMixer logo (authorized reseller).

Links to sample videos.

Open door to provide SpotMixer with product feedback.

Access to a video download center (coming soon).

What Is required of me?

Please complete the application.

Provide a value added service, e.g. Do-It-For-Me use of SpotMixer to create for your clients video ads, online ad campaigns.

Provide SpotMixer with a customer case study (1 per month) via email.

Can I get a private labeled version of SpotMixer.com?

No, we're sorry.

In some cases (for example, when you are using the "preview link" feature to share a video you've created with your clients), the SpotMixer brand will appear. However, we doubt that will cause your customer to use SpotMixer.com directly, if you are providing a value-add service. What most small businesses lack is time. They will gladly pay a fair service fee for something they really want, but don't have the time to execute.

How does it work?

Create an account at SpotMixer.com.

After we approve your application, we will give you a promo code specific to your company.

The first time you publish and pay for a SpotMixer service for a client, enter your promo code and your credit card number. You only need to do that once. From that time forward, we will automatically apply the discounted price to your credit card.

You will be able to see the discounted price under "My Account" information.

Can I sell SpotMixer services for any price?

Yes you may. You know best what value your clients will place on your services. Some resellers price a TV spot they create with SpotMixer for their clients at $299, and mark up SpotMixer online video hosting services up to 100%, based on the services they provide. You know your market best.
The bedroom TV ad exec? Oh yah!
Now, the T&Cs say you have to be at least 13 to use this services. If you're not quite 13, no worries - try using some of the other stuff and hone your video creating skills. But for most of you, the age barrier really isn't a problem - so what you waiting for? Checkout the SpotMixer Partner Program


---
Google Adwords TV Ads
Google has partnered with SpotMixer (another reason why SpotMixer is really quite awesome!) though it's very new and still rolling out across the world, Google's advertisers can now get ads displayed on TV networks – and here's the cool thing. You can be making them.
How about that? You, a teen TV advertising producer 
These guys did a really neat video on trying out Google TV ads. Check it out …
Take a look at the official Google guides to Adwords TV Ads:
Google TV Ads Guide
Google TV Ads Blog

Create a TV Ad Campaign Ads
The TV industry is just about to get turned on it's head, with Google and Apple both poised to launch really neat new TV products. The game is about to change, and you can be part of it.
Return from Create Video Ads Online to Starting a Video Business

Return from Create Video Ads Online to Your Teen Business