Roadmap
Briefly, I want to show you some of the ideas I've got planned out for this site. It's sort of a roadmap to world domination, except much more simple. I'll update it as we go and you can keep tabs on how things are going. You can even suggest things which you want to see happen sooner via the 'Contact Me' form at the bottom.
P.S. Yes, the design is 'basic' at the moment, but a big overhaul is in the pipeline. What I'm really working on at the moment is creating useful stuff and getting traffic. Rest assured, a gorgeous website will be here one day! :D
Without further ado...
Beginners Guide to Your Teen Business - 1% complete
If it takes one guide to get a teenager like you going and starting your own business, its going to be this. This is going to be a step-by-step action guide covering the basics from finding the money to start a business, to a range of fascinating videos for you to watch.
Teen Business Ideas - 7% complete
One of the key things I want to do here is get teenagers like you creating and running your own awesome businesses. The biggest is creating guides to running your own t-shirt design business, or setting up your own social media consultancy - and to do that I need your help.
Have a read of some of our guides already in the link above, and if you've got an amazing teen business idea, or you've got suggestions of who might be able to help create definitive guides to running your own teen XXX business, then let me know! I've got great ideas and action plans for getting in touch with people who could help. I just need a little direction, that all-important first push from you :-]
---
Business Inspiration - 1% complete
One of the things that really got me hooked on business was reading and finding out how businesses started and made a success of themselves. Here's a couple of books that really got me started:
What I really want to do is allow us teens to share their own stories of success to inspire others. So I've setup a little form here for you - a big space for you to write to your hearts content, upload a bunch of pictures and post links to videos (which I can embed) and other sites. Then, I'll quickly check it over and publish it. Your own little story on the web - cool eh?
But what's really exciting is what comes next. I want to aggregate a bunch of teen business stories, one hundred (plus mine) - 101 Tales of Teen Business Success! and then we're going to publish a book. Two reasons:
1) I think getting the message out that teenagers can start and run their own businesses is really important. And having a published book is a real credibility booster, which will help us get traction with mainstream media
2) It's a nice souvenir! I want to put a hundred little profile pictures on the cover, and have your stories included in a nicely printed book. I bet you'll like it, and so will your mum!
Obviously, some kind of quality control needs to be in order so only the best, most popular stories get published. That's why I've included a comments and star-rating feature on all of the stories that get published. Your friends and other visitors can vote on other stories and the best ones will go through. Simples!
---
Teen Business Strategy - 5% complete (just not uploaded yet :p)
I came across a really quite excellent slide once, which outlined the components for success. I thought it was so smart, I decided to use it here to help you develop a strategy for your business. To make it more than just 'making money'...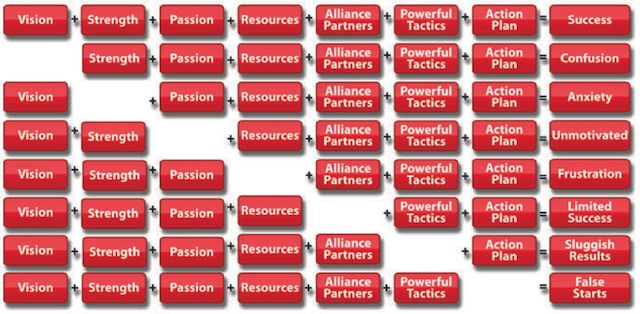 So I'm going to walk you through all of these steps so you can create a successful strategy to build your massively successful teen business. It's going to be wicked :-]
Masters of Marketing - 20% complete
If there's one skill or part of business which is most mis-understood, mis-used and yet totally essential to profit and success, its marketing. Sure, other parts are dependent on each other, but without successful and smart marketing, you'll never be getting customers. No customers, no income and no profit.
So I'd like to walk you through my five Masters of Marketing who have really helped me get to grips with this vital facet of business:
* SiteSell * Copyblogger * Perry Marshall * SEOmoz * Seth Godin
All these people and companies come with dozens of associates who have also helped me, but still without these core organizations, I would be nowhere. To these experts, I salut!
I'm going to introduce you to them, what they do so remarkably well and how you can lap up the best of them without spending a fortune, but still getting incredible results.
FAQ and 'Ask Ed' - 1% complete
Of course, what kind of person would I be if I didn't answer reader's questions?! Besides, I'm sure it'll be fun.
Jobs for Teens - 1% complete
Not everyone wants to start a business. I guess a suggested 'teen jobs' section that extends beyond the usual 'McDonalds cashier' would be useful. But more importantly...
The Definitive Guide to Scoring Your Dream Internship
Wouldn't you jump at the chance to work with a small, rapidly growing business making a real difference doing real work? I did, and it goes on the list of single smartest and downright awesome things I've done - ever. Now, I want to share this formula with you.
I think becoming a teenage intern at your dream company is a great idea and an incredible opportunity for smart, motivated people like you. What I want to do is distill some of the methods and techniques you can use to create that irrefusable WIN-WIN-WIN situation that secures you a place with the company of your choice. Oh, and I'm looking for case studies...
A "What Next?!" Section - 1% complete
Growing up is always going to be challenging I feel, but even harder with the complexities of your own business. It raises different, interesting questions. What about university? How do I grow this into something that I can work on full time? Where next?
I'll write this as I get to it. I'm going through this stage now... and its making me feel all uncomfortable inside. Once I've figured out what to do, and what to suggest to folks like you, I'll publish a guide to "What Next" for teen entrepreneurs. Still, its a while yet!
Email Newsletter - 1% complete
Of course, keeping in touch with a select number of you guys would be kind of cool! I want to start an email newsletter that will allow us to share stories, inspiration and smart business ideas and strategies that will allow us to motivate each other, grow and get smarter.
But perhaps my most exciting idea, I'm going to keep quiet until its ready. And the funny thing is, its only going to be ready when you're ready.
Until then, return to Your Teen Business homepage