CopyBlogger
Forget English Lessons. Study CopyBlogger. Sure, aim to pass your exams, but don't listen to the advice that you have to write long, complicated essays in order to get places in life. Rubbish.
CopyBlogger teaches you how to write incredible, compelling writing (as in 'sales copy') but also how to market it - content marketing. Its about really nailing the fundamentals down; being able to write for prospects, search engines, re-tweeters, other bloggers, your mum... Its about getting results.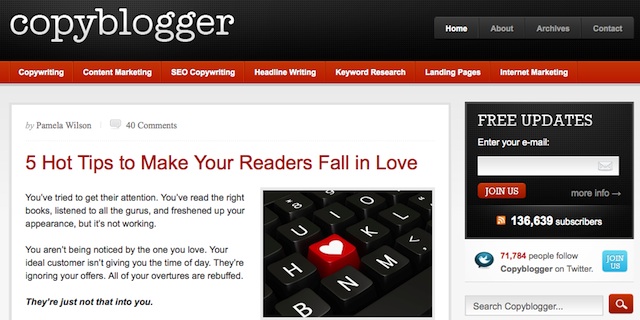 CopyBlogger Makes You Think
Each post has some kind of challenge, that makes you think (and you don't get that always in an English class, do you?) and so you get smarter. Its up to you to figure it out, as if the posts are trying to guide you through. Its definitely not just an instruction manual.
CopyBlogger is ALL about the giving
I've big respect for Brian Clark, Sonia Simone and the other CopyBlogger writers for keeping it clean. They've got a couple of ads on the right hand side, and occasionally promote Wordpress themes - but they're not flogging their own wares all the time directly on the blog, like many others often do.
You can avoid the promotions if you like - which is great for bootstrapped teenage startups. It means there's a much higher 'signal-to-noise' ratio.
Internet Marketing for Smart People
This is one of CopyBlogger's flagship free email courses which is engineered to culture these four pillars of online marketing.
Building Relationships
Copywriting 101
Content Marketing 101
Having a product worth selling
If you do one thing today, I urge you to subscribe to CopyBlogger either via email, via RSS feed or via the CopyBlogger's Twitter account. Then, take a browse around the CopyBlogger website and just start reading :-]
Here's some of the latest posts...
If You Like CopyBlogger, You'll Also Like...
Darren Rowse at ProBlogger is a big partner. Although he is really just focused on blogging (and photography - his biggest project is Digital Photography School), he echoes the same principles that makes CopyBlogger great.
You might also want to consider at some point joining the Third Tribe. This is a joint venture between the folks at CopyBlogger and like-minded organizations. Here's the problem...
There were two tribes of people on the net. Hard-sell internet marketers with their long sales letters smeared with yellow highlighted text, lots of upsells and aggressive marketing techniques...
And then there's the softy-soft approach. Bloggers, pouring tonnes of effort into writing free for their readers, terrified of asking for a reward. The truth is neither side makes much money.
It's a shade expensive, but perhaps worth looking at once you've started pulling in some profit.
Awesome Videos to Finish
Interviews with Brian Clark - he runs CopyBlogger
Return from CopyBlogger to Your Teen Business