Become a Recording Artist
If you want to become a recording artist, and make money making music you need to concentrate on three things:
1) Making Awesome Music (the easy part)
2) Performing Your Music
3) Promoting Your Music
So to achieve these three things, I recommend you do the following.
* Get An Awesome Teacher
* Get a Large Selection of Songs
* Get in Front of an Audience, Lots!
* Get Some Loyal Fans
Lets go through them one-by-one...
Get an Awesome Teacher
If you've been singing for any length of time and haven't got a teacher, you'll struggle to make the next few steps forward and become a successful recording artist. Besides helping you improve your technique and musicality, a music teachers experience really helps with planning out your future strategy for success.
Here's a quick intro as to why...
If you're new to singing, performing or music in general, an awesome music teacher is the single best thing you can do right now - and the more awesome, the better. Of course, the truly elite tutors tend to cluster around music hotspots (Nashville, London etc.) so don't think you need to go after the top-top stuff. But remember this; a bad music teacher is damaging too!
Music teachers are expensive - you're paying for their time. If you think over the course of say, a year, you have an hours lesson a week (that's standard) for say 30 weeks of the year (since you'll have holidays and other things going on). Even at $25/hour, that's $750. If this is ever an issue (some local authorities will offer grants or some kind of subsidy if you can't afford tuition) or if there's simply no way you can get to someone worth going to, then perhaps you should consider other methods.
One comprehensive program you might want to consider is Brett Manning's Singing Success. It's a huge 12-CD home-study course with a workbook and studio training DVD designed to bring you the coaching celebrity singers on TV have to your living room in a handful of simple steps to become a singer. Sounds pretty exciting doesn't it? And it's definitely not as expensive as an average singing teacher!
Get a Large Selection of Songs
To get a large selection of songs, you can do this one of two ways. Write them yourself (and pour a bit of yourself into them) or partner up with a specialist songwriter and work with them to write some material.
There are of course covers, but here's the thing - everyone does covers, and they don't necessarily bring anything new. However, great covers are popular and can help get you (or your band) some traction. Besides they're fun!
If you know someone who's into writing songs and music, partner up with them, get some tips or just ask about them writing some material for you.
Get in Front of an Audience, Lots!
In 1960, there was this struggling high school rock band that were invited to come and play in Hamburg, Germany. It was a totally crazy place where they met a club owner called Bruno (totally true). He had this crazy formula of just getting tonnes of rock bands to play all night and catch all the passing trade, and it was this high school rock band that got the opportunity to play.
They played for 8-hours a day, 7 days a week in several long stints. Over about 18 months, they performed pretty much non-stop for 270 nights in the German city (onstage about twelve-hundred times - about as much as a 'normal' band would in their entire existence!), so when they landed in the USA in 1964, their music took off.
That band was called the Beatles. They became a little bit famous...
What I'm trying to say here is 'talent' doesn't exist. In fact it's just a heck of a lot of hours (10,000 hours to be exact) and a bit of dumb luck...
The more you can get on stage the better. Yes, you will screw up sometimes - but as long as you take something positive away from it, realize you're still not a finished article and work on getting slowly but surely better, more and more performing is a great idea.
Local bars and clubs
Organize a gig at your school or college
Rent out a hall and stage a concert
During the summer, perform something outdoors (check beforehand)
Choosing a Performance Venue
What to Say to Get Gigs
How to Charge for Performing
You might also find Gig Finder and Sonicbids as well as other great articles to help find gigs and places to perform.
Get Some Loyal Fans
A loyal following of any size will help support you, not only in making music but also in building your business. Getting booked for gigs, selling merchandise and having fun is a whole lot easier with people behind you.
As a teenager, you'll probably have a huge network of people perhaps at your school or college who would maybe be interested in coming to a gig. Set something up in school, charge a minimal amount (enough to cover any expenses and perhaps offer a free drink) and just focus on getting loads of people through the door. Build buzz, play awesome music... and then follow-up.
If you're music's any good, and it appeals to your peers then if they see you have a Facebook group, if they see you're on MySpace and if they see you have an iPhone app, they'll probably like it and use it. Then it's a case of keeping in touch, sharing your news and new performance opportunities. Involve your fans in your music. Give them the odd freebie - be generous!
Your fanbase will be your biggest money-maker and biggest buzz-builder. It's kind of like a snowball effect too; the more fans you have, the more buzz and the more fans you'll likely gain.
PRO TIP: If you're band is pretty local, then getting involved with the local media to help promote the stories of your band once it's done a couple of gigs and has a few fans already. People love stories of young, aspiring musicians. Get in touch with a local journalist, your nearest radio station and any other media companies.
There's also lots you can be doing online. Today, there are a handful of awesome tools you can use to keep in touch with fans via email, facebook, twitter, mobile application, band websites - and more. They're all really easy to use, and there's free versions of each of them. I'd recommend having a look at them all.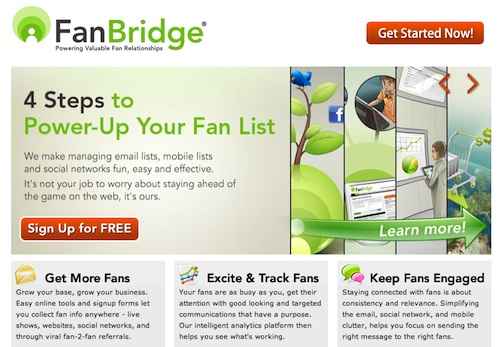 Fanbridge is all about connecting with more fans, exciting them and keeping in touch using email, social networks and text messaging. You can buy plans (the cheapest 'Garage' plan is plentiful if you're just starting out) which allow you to send out messages to your fans who have subscribed via email and social media all from one place.
Fanbridge even offers a free plan and an unconditional guarantee (that means you can get your money back whenever you like) so it's well worth taking a look at. They've also got an excellent blog.

Nimbit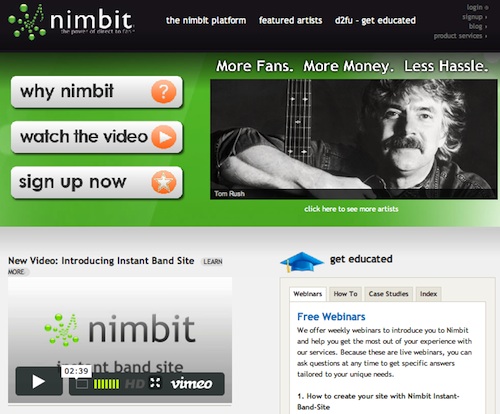 I really like Nimbit because it combines awesome power of managing your fans via email, social media and your very own website with the ability to sell tickets, sell mp3 downloads and physical products like CDs and merchandise without you having to worry about complicated codes, or organizing shipping or anything like that. Nimbit makes it easy to connect with your fans, so you can concentrate on making awesome music.
Here's a brief tour...
They've got a couple of really neat educational features too like D2F-U (or in english, Direct-to-Fan University - teaching you about how to market your music) as well as a really great blog which features not just great tips and tutorials, but news of the music industry as well as showcasing some Nimbit success stories.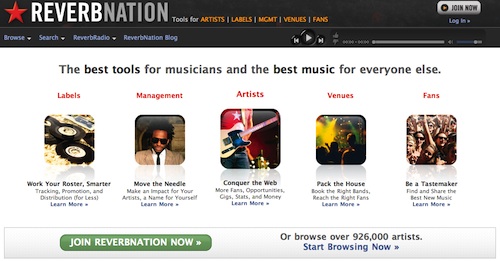 With around one million artists signed-up, ReverbNation is a huge player in the music marketing space combining online promotion and digital music distribution, social media marketing and ticket sales, website hosting and even fan behaviour analytics. The shear array of services on offer is quite bewildering - so take a look and see what interests you.
MailChimp is an email-marketing service, so it doesn't combine any of the social networking ninja tools like the other three services I've mentioned. However, it has to be the easiest to use email service I've come across and perhaps the greatest thing about it is they offer a really, really generous free plan.
---
And that's about all it takes to become a recording artist!
Return from Become a Recording Artist to Your Teen Business